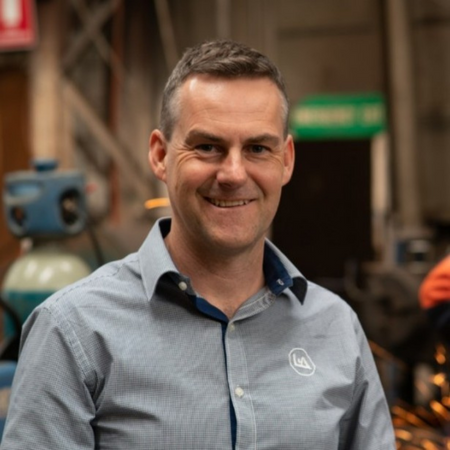 David Fox
Associate Director | Research & Technology, Western Parkland City Authority
Applying Digital Technology to Traditional Manufacturing

The opportunities for smaller manufacturing businesses across the Industry 4.0 environment cannot be overstated. From simply improving operational efficiency and gaining performance visibility, to pivoting business models and brands underpinning new capabilities, roles and revenue streams. However, barriers to uptake are also numerous and real, with a maze of technology options spread across a dynamic product and platform environment making it extremely difficult for traditional businesses owners to identify meaningful use cases, establish a start point and build out an integrated future-facing solution that they understand and can leverage into other business segments.

Navigating beneficial outcomes by marrying up technologies with genuine business needs and the necessary skill base presents a complex and costly exploration environment.

The Advanced Manufacturing Research Facility (AMRF) in Western Sydney is an industry opportunity in getting started with adopting digital and advanced manufacturing processes. This Western Parkland City Authority project explores this landscape in a de-risked neutral environment - whether simply observing advanced manufacturing equipment and systems at work to generate ideas and develop familiarity or pushing the boundaries of a particular technology or process. The facility will provide access to industry scale equipment, software and skills aimed at developing awareness and industry ready solutions by applying modern technologies to established and emerging manufacturing processes.

Three Key Learnings:
Discover how low-cost opportunities and frameworks can acquire and utilise data supporting operational efficiency, extended business models and talent attraction
Understand the challenges in developing solutions, where value resides, and the capabilities needed to secure competitive advantage
How the AMRF can support the development of application ideas and the transfer of knowledge to support ownership of developed solutions

About David:
David commenced his Sydney based SME manufacturing career in the machining trade through a vocational pathway. He later completed a mechanical engineering degree and master by research in project management.

Over the last 30 years he has developed a deep connection with Western Sydney's manufacturing ecosystem. More recently his experience and practice-based education has been applied to the application of I4.0 themes in the context of traditional manufacturing and the skills required to support a technology led transition.

His interests in cloud-based technologies, IIoT and data visualisation in this traditional manufacturing context encouraged his move from industry to the NSW government in late 2021. His current role as Associate Director, Research and Technology at the Western Parkland City Authority is central to the development of the Advanced Manufacturing Research Facility (AMRF). He is focus on the technologies the facility will support and how this investment will engage with the manufacturing industry and wider community to encourage its advancement and growth.